Americans Underestimate Serious Eye Health Risks of UV Radiation
Dr. Justin Bazan, Optometrist and Medical Advisor to The Vision Council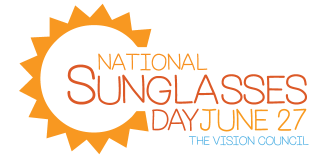 (Alexandria, VA., Tuesday, June 23, 2015) – More than 25 percent of U.S. adults rarely or never wear sunglasses, and nearly two-thirds are unaware of the link between UV exposure and serious eye diseases such as cataracts and age-related macular degeneration. Saturday, June 27 is National Sunglasses Day – a reminder that our shades are a health necessity, and that it is important to wear sunglasses or other UV-protective eyewear every day to protect long-term eye health.
To mitigate the risks of UV-related eye damage, make UV protection a crucial consideration when buying sunglasses.
Dr. Justin Bazan, optometrist and medical advisor to The Vision Council, has some important tips for eye safety on National Sunglasses Day and throughout the year.
SOUNDBITE #1:
SUNGLASSES ARE BOTH A FASHION ACCESSORY AND HEALTH NECESSITY. CONSUMERS SHOULD BE AWARE THAT UV PERMEATES THROUGH THE CLOUDS TO REACH YOUR EYES AND SKIN AND IS PRESENT ALL YEAR ROUND, NOT JUST DURING THE SUMMERTIME AND EVEN WHEN IT'S CLOUDY OUT. NOT ALL SUNGLASSES HAVE UVA AND UVB PROTECTION, SO BE SURE TO LOOK FOR A UV PROTECTION LABEL BEFORE PURCHASING.
SOUNDBITE #2:
WHEN IT COMES TO SUNGLASSES, DARKER DOESN'T ALWAYS MEAN BETTER PROTECTION. TINT AND COLOR OF SUNGLASS LENSES HAS NO BEARING ON THE LEVEL OF UV PROTECTION. EVEN CLEAR GLASSES WITH UV TREATMENTS PROVIDE EXCELLENT PROTECTION FROM THE SUN. DARK LENSES WITHOUT UV PROTECTION CAN ACTUALLY BE WORSE FOR YOUR EYES THAN NO SUNGLASSES AT ALL SINCE THEY CAN LET MORE UV RAYS REACH YOUR DILATED EYE.
For more information, visit nationalsunglassesday.com.