The AFT is Engaged in Key Senatorial and Gubernatorial Races
Randi Weingarten, President, American Federation of Teachers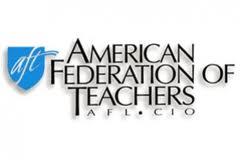 (Washington, DC, Friday, October 3, 2014) – With the midterm election just 38 days away, there is a lot at stake! And that is why the American Federation of Teachers is investing $20 million dollars – more than they've spent in past years. The AFT is committed to electing leaders who will work for kids, families and communities – and not just pay lip service to public education and economic opportunity. 
President Randi Weingarten and the American Federation of Teachers have a strong vision for how policymakers should be advancing the promise of an America that ensures our economy and our schools enable opportunity for everyone and not just a wealthy few.
There is a lot riding on this election and that is why the AFT will be engaged in key senatorial and gubernatorial races in Connecticut, Florida, Illinois, Michigan, Alaska, Minnesota, and Pennsylvania.
Reclaiming the Promise excerpts from Randi Weingarten: "When 1 out of 3 Americans was in a labor union, we didn't just speak for the community—we were community. But today, we must create new coalitions and, through them, the groundswell needed to reclaim the promise of America. In some ways, community must be our new density.
We've taken the conversations about schools outside the school and into our communities. Because of that, we're in a different place than we were two years ago. In Philadelphia, Newark and elsewhere, working with the community to reclaim our public schools, we stopped school closures and kept public schools in public hands.
We're seeing whole communities come together to combat discriminatory discipline policies and chronic student absenteeism, and to make schools the center of the community. No more us versus students, or us versus community. It's us with students and with community."