Last Three Years Have Been the Worst on Record for the Safety of Journalists
Dana Priest, Pulitzer Prize-winning Washington Post Reporter and the John S. and James L. Knight Chair in Public Affairs Journalism at the Philip Merrill College of Journalism at the University of Maryland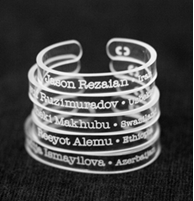 (Washington, D.C., Wednesday, June 10, 2015) – The last three years have been the worst on record for the safety of journalists covering news in many parts of the world. Press Uncuffed is a campaign to raise awareness of and help free imprisoned journalists by selling bracelets bearing their names, launched by University of Maryland students and their professor, Pulitzer Prize-winning Washington Post reporter, Dana Priest.
Proceeds from the effort will benefit the Committee to Protect Journalists (CPJ). CPJ is an independent, nonprofit organization that provides emergency assistance to journalists facing threats around the world and advocates for journalists imprisoned and attacked in reprisal for their work. According to CPJ, there are currently more than 220 journalists in prison. In 2014, 61 journalists were killed and 21 have already been killed in 2015.
Created by students at the University of Maryland and their professor, Pulitzer Prize-winning Washington Post reporter Dana Priest, Press Uncuffed bracelets are available for $10 each on the Investigative Reporters and Editors online store.
Last fall, Priest assigned each of her students an imprisoned journalist to profile for the semester. The students then wanted to do more to help release them. The campaign was born out of this experience.
The bracelets are made of clear acrylic, a reminder of the importance of transparency of information. For more information, visit pressuncuffed.org.