"Catch Me if You Can" Author Joins with AARP Fraud Watch Network, Microsoft and Attorney General's Office to Raise Awareness of Cybercrime
Frank Abagnale, AARP Fraud Watch Network Ambassador, Patti Chrzan, Senior Director, Strategic Programs, Digital Crimes Unit at Microsoft and Doug Shadel, State Director for AARP Washington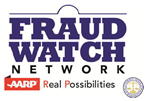 (Redmond, WA, Wednesday, September 30, 2015) – Since May 2014, Microsoft has received over 65,000 customer complaints regarding fraudulent tech support scams. This year alone, an estimated 3.3 million people in the United States will pay more than $1.5 billion to scammers.
Today, Microsoft is hosting 300 members of American Association of Retired Persons (AARP) at its Redmond campus for a revealing discussion on how con artists work. Led by Frank Abagnale, an identity theft expert famously portrayed by Leonardo DiCaprio in "Catch Me If You Can", the presentations will arm attendees with the knowledge and information to spot a scam in its tracks.
Microsoft took its first major strike against online fraudsters last year with a civil lawsuit in federal court. Now, the company is partnering with law enforcement officials and doing even more with AARP's Fraud Watch Network, including inviting local AARP members to monthly tours of Microsoft's Cybercrime Center, bringing expertise to AARP's Scam Jams and publishing a joint booklet that alerts seniors to tech scams and helps victims take action. Microsoft is also offering a workshop on how you can identify, prevent, and protect yourself from online scams at the Microsoft Store in Bellevue on October 14. You can learn more about the store event and register now online on the Microsoft Events page. For more information and to sign up for a Microsoft Cybercrime Center tour, visit the AARP Seattle webpage.
Neither Microsoft nor our partners make unsolicited phone calls to charge people for computer security or software fixes. If someone claiming to be from Microsoft tech support calls you:
Do not purchase any software or services.
Ask if there is a fee or subscription associated with the "service." If there is, hang up.
Do not give control of your computer to a third party unless you can confirm that it is a legitimate representative of a computer support team with whom you are already a customer.
Take the caller's information down and immediately report it to your local authorities.
Do not provide your credit card or financial information to someone claiming to be from Microsoft tech support.
For news about the latest scams and advice from Abagnale on how to avoid identity theft, visit the AARP Fraud Watch Network. If you feel you have been a victim of fraud, contact the Washington State Attorney General's Office at 1-800-551-4636, or file a complaint online at www.atg.wa.gov.