30 Young Engineers and Scientists from Across US Match Wits in Broadcom MASTERS Middle School STEM Competition
Paula Golden, President of the Broadcom Foundation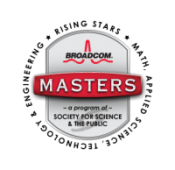 (Mountain View, CA, Wednesday, October 7, 2015) –  Broadcom Foundation and Society for Science & the Public (SSP) has announced the winner of its fifth annual Broadcom MASTERS– the nation's most prestigious Science, Technology, Engineering and Math (STEM) middle school competition. Thirty finalists were chosen from local science fairs across the US and brought Mountain View, Ca. to participate in Broadcom MASTERS' (Math, Applied Science, Technology and Engineering for Rising Stars) rigorous competition that challenged their abilities in STEM, teamwork and collaboration. 
This year's winner of the $25,000 Samueli Foundation Prize is Annie Ostojic (age 13) of Munster, Indiana.
Finalist overview:
Finalists included 14 girls and 16 boys representing 28 schools and one home school in 14 states
California had eight finalists, Florida had five, Texas had three and Minnesota, New York and Utah each had two
Finalists were selected by a panel of distinguished scientists and engineers from among 300 semifinalists and 2,230 applicants in 47 states and two territories
In addition to the Samueli Foundation Prize, students competed for the $10,000 Marconi/Samueli Award for Innovation in addition to prizes for first and second place in each of the STEM categories. Two finalists were named the Rising Star delegates and will represent the U.S. at the Broadcom MASTERS International next spring in Phoenix. They will also attend Intel ISEF, the world's largest international high school science fair in May 2016.
Winners Include:
The Samueli Foundation Prize: $25,000
Winner: Annie Ostojic, 13, of Munster, Indiana
Project: A Novel Microwave Cavity Design Using Cylindrical Parabolic Reflectors to Optimize Energy Efficiency
Marconi/Samueli Award for Innovation: $10,000
Winner: Sebastian Mellen, 14, of San Diego, Calif.
Project: MathSuite: An Innovative Android App that Makes Dreaded Calculations FUN! Published on Google Play!
STEM Award Winners:
Each of these finalists (first and second place award winners) were selected for demonstrated skills and promise in each of the disciplines represented by STEM. First place winners are awarded $3,500 and second place winners receive $2,500, in each case to support the finalist's choice of STEM summer camp experiences offered around the country. Each STEM winner also wins an iPad.
Science Awards:

First Place: Maximilian Du, Manlius, New York, for his project on a new method to extract caffeine from drinks.
Second place: Hannah Cevasco, San Carlos, Calif., for her research on the healing properties of honey.

Technology Awards:

First place: Manasa (Hari) Bhimaraju, Cupertino, Calif., for her project on a low-cost animated teaching tool for the study of elements in the periodic table with an interface for the visually impaired.
Second place: Anusha Zaman, Baton Rouge, Louisiana, for her project on the potential health effects of betel use.

Engineering Awards:

First place: Avery Clowes, Bolton, Massachusetts, for his project on an electrostatic generator.
Second place: Soyoun Choi, Melbourne, Florida, for her project on the effect of bilingualism on cognitive development in adolescents.

Mathematics Awards:

First place: David Yue, Plano, Texas for his project 3-D reconstruction processing and its application to cancer prevention.
Second place: Madison Toonder, St. Augustine, Florida, for her project on the study on the effect of sunblock nanoparticles on oysters' ability to filter bay water.
Rising Stars Awards:
Each of the Rising Stars wins a trip to Intel ISEF, the world's largest international high school science fair competition, in May 2016 as the United States Delegates to Broadcom MASTERS International, in recognition of their work throughout the Broadcom MASTERS finals.
Winners:

Evelyn Bodoni, Centennial, Colorado, for her project on the reasons for student cheating.
Anish Singhani, San Ramon, Calif., for his project on an electronic system that lets a person use brain waves to control devices, such as a wheelchair and computer keyboard.